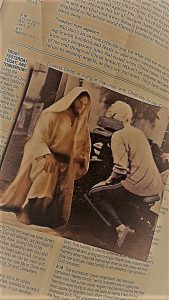 "And now…just as you trusted Christ to save you,
trust Him, too, for each day's problems;
 live in vital union with Him. 
 (Colossians 2:6  NLT)
by Debbie Allen
      Do you remember the captivating, opening scene from the classic movie, Chariots of Fire? Beautiful, synthesized, music pulses to the rhythmic, running of barefoot athletes coursing through the gray sands of a British beach. Mud-splattered, a team of college runners makes their way in and out of the receding beach waters. Every athlete's face reflects the competitive spirit goading him from deep within; urging him on with every stride.  Their grimacing expressions alert us to the level of intensity with which they've chosen to run their race!  Typically, most run to win; to gain both the prize and the victor's applause at the finish line. But, there is one athlete among them who runs with the greatest of all motivations. Eric Liddell, 1924 winner of an Olympic Gold Medal (in the movie Chariots of Fire), runs for the sheer joy of it. He runs "…to delight his God."
When I was a little girl, I can remember having a pressing desire to please.  Please my family…please my friends…please my teachers, and, yes… even to leave a smile on God's Face at the end of the day. Because of this boundless childhood aim, I discovered early in life that pleasing hearts also brought joy to my own heart. This was especially true concerning the Heart of God.  I enjoyed feeling the warmth of God's Smile radiating down upon me. In my little-girl mind, I already had life all figured out. Delight God's Heart and live joyfully ever after.
Though there is a measure of truth in this childhood proverb, as I grew to adulthood, I found my level of trying to leave a smile on God's Face was sometimes dictated by the difficulty surrounding my circumstances.  The desire was still there, but fear and doubt often stood between desire and difficulty. Eric Liddell ran every one of his races with passion, consumed by the fire within him to delight the heart of God. But, what happens to such passion in your real life when God enters you in a race you never wanted to run in?______________________________________________________________________________________________
"Eric Liddell ran every race with passion, consumed by the fire within him to 'Delight the Heart of God'."
______________________________________________________________________________________________________
Recently, I found myself running in just such a race.  I underwent eye surgery for an extreme, retinal detachment in my right eye.  Nothing could've prepared me for my life, post-surgery. My head and eyes had to be at a ninety-degree angle to the floor; whether I was walking, sitting, or laying.  Face-down was my story for the first two l-o-n-g weeks of a several-month recovery. Knowing God signed me up for this event, it shouldn't have surprised me that He also provided a way for me to run in this race. No…not a new pair of Nike running shoes!
Early, the morning after eye surgery, FedEx delivered a giant box to my door.  In it was the chair from which I would be running this race.  That's right…a chair I believe was of God's own choosing.  You see, in order to sit in it, you had to be on your knees!  Technology designed this chair with the face-down survival of recuperating eye patients in mind.  God used the design of this chair to remind me, what life really looks like, on my knees and face-down before Him every day.
Every day I straddled that chair, I saw life from a whole different perspective.  Because my head was bowed low, the unwiped counters and dishes stacked in the sink were no longer a source of irritation. Unannounced visitors became more to me than the extra dirt tracking in, or shoes piling up in my entryway.  No longer did I perceive unexpected phone calls or text messages as an inconvenience, pulling me away from my own important busy-ness.   From my face-down vantage point, all I could really see were hands and feet, but that was enough.  Though my sight was less than it ever had been, God was increasing my vision. Between the rest He was giving me, and the race He'd set before me, His Heart was teaching mine things I'd lost sight of in the midst of my own agendas. The Whispers of His Grace flowed deep into the hollowed-out places of my soul, reminding me,
"My Child…the people standing on your doorstep that you often label an inconvenience; are the hearts and souls My Son gave His Life for, to see them standing on My Doorstep."
Had I not already been in my chair and on my knees, bowed before Him; the beauty of these words was enough to drive me there. It is a humbling thing to see even a little corner of your own world through the lens of God's Perspective. Though it's weighty, it's oh, so worthy!
____________________________________________________________________________________________________
 "My Child, the people standing on your doorstep, you often label an inconvenience; are the hearts and souls My Son gave His Life for… to see them standing on My Doorstep."
______________________________________________________________________________________________________
Following those beautiful Whispers, I began seeing the hands and feet on my doorstep as the hands and feet of Jesus, faithfully caring for me in my weakness.  I witnessed God's generosity through family, friends, and total strangers that showered my husband and I with prayers, meals, Starbucks coffees, gifts, and get-well cards, even before a need was spoken aloud.  In the course of those two weeks, I began hearing God's Love in the laughter,concern and conversation of those who took time to visit with me. I felt His Healing Touches every time my dear Husband kissed the top of my head, massaged my strained neck and shoulders, or removed my eye patch to put drops in the corner of a crusty, swollen eyeball.  Phone calls and texts from loved ones became God's gentle reminders to my weary heart of how very much I am loved, and that I was not forgotten.
Enduring an unexpected race in a face-down chair I came to know as my Chair-iot Afire; allowed God to set my heart ablaze with a renewed passion to run races in the spiritual world, like Eric Liddell ran his races in the physical world. Eric's passion to run fueled him with joy so deeply rooted in God that "delighting his God", became his reason for reaching the finish line at every race.  You can bet God was smiling down on Eric at the end of every race he ran.
Though I am still unable to see the finish line in my own race, I will be forever grateful to God, for the time He's given me on my knees, head bowed before Him.  The days I spent surrendered in my Chair-iot Afire, taught me volumes. My little-girl thinking was never meant to rule in my big-girl heart;and neither were doubt and fear.  Though pleasing God remains the highest desire of my heart, at the end of the day, I understand now in a much deeper way that true joy comes to us only at great cost.
Life is filled with unexpected difficulties.  We will  encounter fear and doubt. But, may we faithfully choose to run the difficult races God asks us to run; letting the grimacing expressions on our face become, instead, the triumphant indicators to a watching world, of the level of intensity we have chosen to run our race.  My prayer for each of us is that we choose to run our life's races, consumed by an ever-growing passion inside of us to "delight our God" right up to the moment we cross the finish line.  And at the end of the day, when our hearts sense the radiant warmth of God smiling down upon us, remember this:
"Our Good God gives us Joy to warm our hearts; not in spite of the difficulties we encounter … but, because of the difficulties we face."

HEART TRAPPINGS:
Have you ever considered what expression God might be wearing at the end of the day, when He looks down upon you ?
Are you running in one of life's unexpected races right now? What drives your heart to the finish line?
Getting all you thought you really wanted…the victor's applause?  Or getting all you really ever needed…God's Smile?
The greatest prize…or the Greatest Reward?
PRAYER:  Dearest Father, You are a Good God, and a Loving Father.  As we run the races You set before us, may we do so with the greatest motivation of all…to 'Delight the Heart of God!"  Strengthen us.  Increase our vision and set our hearts ablaze with passion enough to reach our finish lines, and step into the warmth of Your Smile, shining down upon us at day's end!  Amen