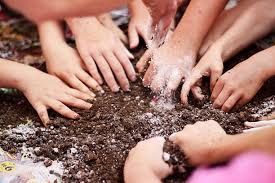 "Yet you, Lord, are our Father.  We are the clay,
You are the Potter; we are all the work of your Hand."
(Isaiah 64:8)
by Debbie Allen
DIRT—even the sight of it signals something inside of us which compels us to label it undesirable. We spend the bulk of our lives trying to keep ourselves, our children, and our homes free from it. We track it in… mop it up…dust it away…shovel it out…and do our best to dispose of it permanently.  Webster's 1828 Dictionary describes dirt this way:
"Any foul and filthy substance; earth; mud; mire; dust; whatever, adhering to anything, renders it foul or unclean."
With its highest redeeming quality in this world being listed as 'foul' and 'filthy' … dirt surely qualifies for a spot among the four-letter-words of our time!  However, I don't believe the destiny of dirt stops here.  Dirt, like all of creation, was created by God with a much greater purpose…one which too often leaves us on the short-sighted list.
At a family gathering a couple of weeks ago, I watched three of my grandchildren delivering little cellophane bags full of 'something' to family members who were interested in acquiring, what they deemed, "…the greatest invention since Silly Putty and Brain Slime!' Uniquely labeled by the hands of an eager-to-make-a-profit, 5, 9, and 10 year-old; each bag arrived with a high-pressure sales pitch, an angelic-smile and a promise to deliver satisfaction to every buyer.
"THIS was a deal like no other!" proclaimed my Grandson, Ryan.
"No one in this world doesn't NEED this!" Makayla chimed in.
On the heels of her cousins' animated sales pitches, Chelsea, 5, just appeared out of nowhere with her cellophane bag in front of her face. Without a word being spoken, she melted every heart in the room with her smile, and then disappeared without a trace! (Being 'cute' is probably one of the most successful sales pitches ever!)
______________________________________________________________________________________________________
Being 'cute' is probably one of the most successful sales pitches ever!
______________________________________________________________________________________________________
As I glanced around the living room, several of my family members were already digging into pockets, wallets and purses in hot pursuit of cash enough to buy them what they never even knew they always wanted…a cellophane bag containing one Muddy Buddy.  That's right, a Muddy Buddy. More than just a mud ball, this two-inch round, two-ingredient, friend came with a promise to always be there for you as long as you followed the detailed instructions my grandchildren included with the bag.  If you ever strayed from following these very explicit instructions, the only guarantee still in effect is that your Muddy Buddy will fall to pieces over time!
As you can see, a lot of thought went into this Muddy Buddy project; from production, to sales, to care instructions and even towards job security. You see, should you happen to neglect your friend, we were told by my grandchildren,
"You can just order a new one…a muddier buddy!"
______________________________________________________________________________________________________
"If you ever strayed from following these v-e-r-y explicit instructions, the only
guarantee still in effect is that your Muddy Buddy will fall to pieces."
______________________________________________________________________________________________________
At the end of that day, I was not the only one who was surprised that the Muddy Buddies showed such a large profit margin. My Granddaughter, Makayla, ran into the kitchen holding a zip-loc bulging with greenbacks and jingling coins totaling nearly $25.00.
"Grammie, I can't believe people really paid us for Muddy Buddies!"
Leaning over to give her a hug, I realized my Grandchildren just experienced one of the truest pay-dirt moments in history!  I was not about to squelch her joy but, I did remind her of this.
"On its own, the Muddy Buddy is just dirt. It's your family's love for the one's that made the Muddy Buddies that makes them worth something."
She thought about my words for a half-second then skipped off to join the other two Muddy Buddy makers already out in the backyard stirring up a new batch of muddy friends!
I, on the other hand, couldn't forget those words.  Though they'd rolled off my tongue naturally, after I spoke them they echoed back a supernatural message to my heart.  I looked down at the cellophane bag I'd purchased a few minutes earlier.  I didn't just see a Muddy Buddy anymore…I saw myself from God's perspective.
__________________________________________________________________________________________________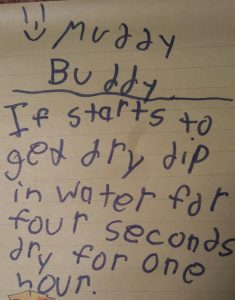 The "Muddy Buddy" SURVIVAL INSTRUCTIONS
___________________________________________________________________________________________________
My grandchildren labeled the cellophane bag, "Hand Putty". It made me stop and think.  I too am to become as hand putty in my Heavenly Father's Hands, allowing Him to mold me and make me into the image of His Son, Jesus.
At the bottom of the cellophane bag, in smaller letters, was written this warning:"NOT Stretchy!"  Oh, how that describes me!  Many times when God has allowed circumstances to surround me, forcing me out of my comfort zone; I am resistant to the pressures being exerted upon me.  Pressure meant for my good and for my growth.  Pressure, intended to stretch me in a brand new direction, one which promises to bring me closer to God's Heart.
I often forget that I too, am only made of dust. If I fail to regularly water my spirit with my Father's Words, and let His Promises trickle-down and soak-in thoroughly, my spirit grows parched. Then, like the Muddy Buddy, I have one guarantee in this life; that I will fall to pieces over time.
As I read over Webster's definition of dirt once more, " Dirt—any foul and filthy substance: earth; mud; mire; dust…"  I couldn't help but see myself there in the midst of it. Dust. God took the very substance the world labels "foul and filthy" and created something…someone beautiful from it.   The Book of Genesis tells us, "The Lord God formed the man (Adam) from the dust of the ground." (Genesis 2:7a NLT)
  God formed man out of dirt from the ground, but He didn't stop there.  His Word goes on to say "… and (God) blew into his nostrils the breath of life. The man came alive—a living soul!" (Gen. 2:7)
 Yes, you and I are living, breathing souls made of dust… earthen vessels formed in our mothers' wombs by the Hand of the Heavenly Father.   Like the Muddy Buddy… on our own, we have no true value. It is the Love of our Father; the One Who made each of us and breathed His Breath into us; that gives our life value.  Unspeakable worth. So great is that worth,  His Son, Jesus, purchased and redeemed us with the price of His Own Life.  Priceless!
Though, we are but dust; we are infinitely more than just dirt. We are created to be so much more than God's Muddy Buddies in this life!  We are God's children. His chosen ones. We are forever-loved by our Father Who created us; earthen vessels designed to carry His Love…His Immeasurable Worth into this world where we are called by our Heavenly Father to be to others:
"A mind through which Christ thinks
A life through which Christ shows
A voice through which Christ speaks
A hand through which Christ helps"
—The Navigators—

HEART TRAPPINGS:
Have you ever stopped to ponder the reality of your own frailty; that "…we are but dust?
Picture yourself as a lump of clay on the Potter's Wheel.  Will you yield to the pressure of the Master's Hands
upon your life and let Him mold and shape you into the masterpiece He envisioned you to be long before your birth?
Prayer: Father, how sad it makes me sometimes when I picture myself as  clay on Your Potter's Wheel.  Help me to be more like  my Grandchildren's"Muddy Buddy," Hand Putty, in Your Hands. May I not resist, but yield to the pressure of Your Hands upon me.  Mold me…make me more and more like Jesus with every turn of Your Potter's Wheel.  I want to be the mind…the life…the voice…and the hand through which Christ works to help another find his true worth in this world.  Amen