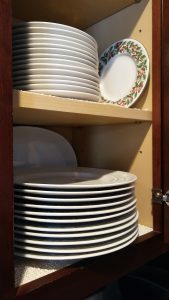 "Make sure you don't take things for granted and go slack in working for the common good; share what you have with others.  God takes particular pleasure in acts of worship—a different kind of 'sacrifice'—that takes place in the kitchen, workplace and on the streets." 
 (Hebrews 13:16  MSG)
by Debbie Allen
With Christmas, Valentine's Day, St. Patty's Day, and Easter all behind me, you'd think all the decorations that define any one of them would be long packed away by now.  I thought so, too but, recently I came across a stray Christmas dish tucked inside a stack of plates in a cupboard full of every-day dishes.  Slipping it out, an unexpected mix of joy and sadness collided down inside my heart.  I know it sounds silly, but I experienced this same feeling a few months ago, when it came to stowing away all of my Christmas dishes for another year.  It's not just because I love the dishes (and I do!).  It's more a matter of loving the memories and the stories connected to them.
______________________________________________________________________________________________________
"The Season of Love ends on the calendar…but, Love Remains."
______________________________________________________________________________________________________
One glance down at that stray Christmas dish was enough to evoke memories of all the times my husband and I gathered around our dining room table with love ones throughout the course of the holidays. These were special times and I loved serving my family and friends in this way. Every beautiful, place-setting was meant as a welcome reminder to each loved one, of how very special they are to us.  Each Christmas dish served as a place of candle-lit, beauty where every heart was invited to experience a moment of rest and renewal; not only in the meal being provided, but in the love, laughter, and life being cultivated around our table while sharing in the simple pleasure of enjoying each other's company.
Many calendar pages have been torn off and thrown away since those times but, when I look at that Christmas plate, I still see a silent, but beautiful reflection of the Season of Love behind us. As I pulled that stray Christmas dish out from among my everyday dishes to put it away in my dining room buffet; I fully expected the melancholy moment that washed over my heart again but, not the message that accompanied it. The Christmas dish still pinched between my fingers, God's gentle Whispers penetrated my heart, ever-so-deeply.
"The Season of Love ends on the calendar…but, Love remains."
 His Words bestowed a measure of distinction on that stray Christmas plate that day I pray I never forget.    I no longer see it as just a beautiful plate designed for a passing season of love; but, as a plate with a unique, Hand-crafted Beauty reflecting the One-of-a-Kind-Love meant for all seasons.
Like the Christmas plate, Jesus, too, was found among the ordinary. He walked among every day, ordinary people like you and I but, He did so in an extraordinary way.      Jesus' life, death, and every step He took on earth in-between, radically magnifies what living life with God's Love on display in every season really looks like.  A Servant's Heart characterized everything He did.   One of Jesus' own disciples describes His life this way, "For even the Son of Man (Jesus) did not come to be served but to serve, and to give His life as a ransom for many." (Mark 10:45) For Jesus that meant going to the Cross and willingly, giving up His Life for us all. For me, that means willingly giving up the pieces of my own life and comfort for the benefit of another's needs.  It could be something as simple as going to my cupboard of every day dishes and setting an extra place at my table where a loved one, neighbor, or even a stranger is provided the opportunity to taste not only the satisfying meal in front of them but, to experience the Light and Love of the One living down inside of me; through the love, laughter, and life being cultivated around my table.
_____________________________________________________________________________________________________
"Sometimes setting the table becomes more a matter of the heart than the dishes!"
______________________________________________________________________________________________________
As I said before, I love serving my family and friends in this way. However, I still hear the Whispers of God echoing off the stray Christmas plate, and I am deeply convicted about something.  I am beginning to sense that I really only like the idea of serving others the way God desires me to serve them, when my servant-heart is required of me for only a short season. Sometimes setting the table becomes more of a matter of the heart than the dishes!   Jesus didn't put His Heart or His Love for others away after Christmas…and neither should I.  Oh, how small is our vision of God's Love and the Servant's Heart!
Needless to say, that stray Christmas plate never made it into my buffet that day. I placed it instead, back into my cupboard of everyday-dishes; in an upright position.   Why?  So that every time I open up the cupboard door, I see a porcelain, Portrait of Jesus' Love and His every-day Servant Heart.  What a powerful, visual reminder to my own heart of the kind of intentional Love I am to model as I serve those who gather around my table every season of every year.
I am thoroughly convinced that the pieces of my life I am willing to sacrifice for His greater purposes, are meant to be the seasons of love in someone else's life, pointing them toward the kind of genuine Love that can only come from a true Servant's Heart.  God's Love, a Love for all seasons…
…a Love that remains.

HEART TRAPPINGS:
Is your own servant-heart in need of a tune up?
When is the last time you intentionally invited friends,
family, or even a stranger to eat at your table,  just for the fellowship?
Prayer:  Heavenly Father, thank you for Your timely reminders for my heart.
I ask you to give me a wise mind and a loving spirit, tuned to Your own
Servant-Heart and Love for others in all seasons; so I may acquire a
thorough understanding of the marvelous ways in which You work.
I pray that I will live well for You…my Master, pleasing You as I
work hard, whether it's in my kitchen, in the work place, or on the streets.
Amen