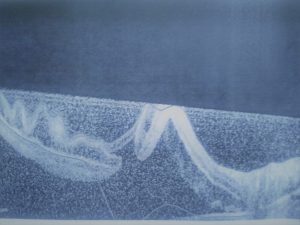 "Let the peace of heart which comes from Christ be always in your hearts and lives
…let His Words enrich  your lives and make you wise."
 (Colossians 3:15-16 LAB)
  by Debbie Allen
This was no ordinary Party Invitation.  It arrived on my heart's doorstep via a doctor's hand.  A wordless picture containing an unwritten message and a mandatory RSVP.  My elevated heartbeat pounded out the surreal implications of such an invitation.  What my mind refused to believe, my heart could not deny.  I held in my hand a Divine Invitation to a God-Inspired Celebration!
R.S.V.P. "Reply, if you please."  It's an uncomplicated process. Make a black mark on the calendar and send a simple yes or no reply back to the sender.  But, how do you respond when your heart is telling you the RSVP is a Divine one? I wrestled with that question for a split-second before realizing this.  God already knows what my answer will be.  After all, He's God.  He's already tuned-in to all of my heart's reservations and is painfully aware of the barrage of lame excuses I have waiting to justify my preferred, 'decline' response to His unexpected Party . Perhaps that's why He so graciously took the liberty of RSVP'ing for me.  In the time it took for His 'YES' reply to filter down into my heart, I realized I wasn't going to just be attending His party…I was His chosen guest of honor!
God's methods and expectations of us in life are anything but conventional. When you are dealing with a heavenly Party Planner, sometimes the invitation feels more like a summons than an invite. You don't find the typical who, what, where, when and why's listed on the inside page.   My invitation arrived as a wordless picture. In my case, even the RSVP stood for something different.  Retinal Scan Vision Pending. When my Doctor handed it to me, she explained the picture on the front of it as being an image of the detached retina inside my right eye. My blind eye.  The eye no one could come up with a reason for its undoing.  Staring down at the abstract, peaks and valleys pictured on the front of my party invitation, I could see only mountains.  Mountains I never wanted to climb. Mountains, like arrows, ever-pointing my eyes up to the Sender.  My good eye already perceived that mountainous image as no cause for celebration.  Its pathways were too heavily peppered with highs and lows for my taste.  But, my blind eye wisely sensed the Maker of all Things offering me an opportunity to trust Him as the Maker of all Mountains…including mine.
______________________________________________________________________________________________
"GOD'S METHODS ARE SOMETIMES STRANGE, BUT HIS HEART IS ALWAYS GOOD.  HE CAN BE TRUSTED."
______________________________________________________________________________________________
My Doctor scheduled my emergency eye surgery on her calendar and told me very explicitly, "You need to clear your calendar of everything   for the next several weeks."  "And I mean everything."
Her no-nonsense approach alerted me to one thing. My Doctor had to be working for God. When she spoke her words to me, I heard them back in God-Language.  "My Child, I have cleared your calendar. Now, Let the Party begin!"
Though I had a difficult time seeing major eye surgery as cause for celebration, I needed to focus on the One Who invited me there in the first place.  I was His guest of honor at a Celebration lavishly planned by His Hand.   Long ago I learned that God's methods are sometimes strange, but His Heart is always Good. He can be trusted.
Part of my immediate recovery after surgery, was to lay face-down, around-the-clock, for two weeks.  My forehead rested on a unique, crescent-shaped pillow, placed at the head of my bed.  Some may have perceived this pillow as a prison. But, that hollowed out place of silent, darkness became for me a little mixing bowl from heaven. A place for my thoughts to spill out into and swirl around wildly until God stepped in and added His own Flavor to the mixture. The end result?   Something Sweet for my soul!
A timely slice of His Sweet Words to fill a hunger deep inside of me.   I yearned to know my pain would go away and my world would be ok again. I longed for peace of mind and heart enough to summon the kind of courage I never knew I had; to climb mountains I never knew I could.  In-between my anxious thoughts, God spoon-fed me one word at a time, from Psalm 125:1-2—
"Those who trust in the Lord are like Mount Zion, which cannot be shaken but endures forever. As the mountains surround Jerusalem, so the Lord surrounds His people both now and forevermore."  (NIV)
Though I'd sampled these words once before in my life, in my pain, each mouthful became a satisfying indulgence for my heart. Every spoonful carried my thoughts farther and farther away from my own mountains, to the beauty of the Hills of Jerusalem.  The Lord's Mountains.
His Mountains are not random mountains that appeared out of nowhere for no reason. God hand-fashioned each mountain and set them in place, to envelope Jerusalem forevermore. Even the Hebrew names of these seven Mountains are the unshakable reminders of the amazing Heart of God and His incredible desire to be with His children. Though these mountains stand in silence on Jerusalem's horizon, every peak shouts its own piece of God's Love Story. Mount Moriah echoes the story of the place of God's Presence. Bethsaida declares, house of mercy. Mount Scopus stands firm as a place of healing. Mount of Olives cries out of being pressed like an olive press and of bringing freshness and beauty. Mount Opel beckons to the world of a safe place, of being surrounded and fortified by a wall.  Mount Zion is a stronghold, a fortress, to show the way.  The seventh mountain is Ghareb (Calvary) meaning sacrifice, the place of atonement. If you were to physically hike these mountains, the only way you would be given access to Mount Moriah is through Ghareb…sacrifice.  What an undeniable picture of the Salvation Story!
These mountains truly magnify the heights and depths of God's Love for His people. Zion (also refers to the whole mountain range) was the dwelling place of God.  God has chosen it, blessed it and surrounded it, but,  Zion's true strength lies in the Presence of God Himself!
For me, leaning into these truths in the midst of pain still fresh from the surgeon's scalpel, only heightened the intimate Whispers of God in my spirit.
"Trust Me, My Child… you are not just climbing mountains to reach a summit.  I am teaching you to become 'like' a mountain; an unshakable mountain."
Sinking my forehead deeper still, into my pillow, and feeling more like a marshmallow than a mountain, tears of realization spilled into my heavenly mixing bowl. That picture on my Party Invitation was not pointing me to my mountains…it was meant as a sweet reminder of God's Mountains… the Mountains of Jerusalem.  From those seven summits echoed a Message for my heart:
When I trust in my Lord, I will be like Zion.  I will be a fortress and a stronghold; a child set apart for His Glory. I am surrounded by the LORD Himself!  He is my Moriah, for it is in this place  He surrounds me with His Love and Mercy.  He is my Healer, physically and spiritually. He promises to bring Freshness and new Beauty to my life.  The LORD is my Fortress, my Tower, and my place of Strength.  He is my Protector and the Only One Who is able to show me the way.
______________________________________________________________________________________________________
"When I TRUST in my LORD, I will be like Mount Zion.  I will be a fortress and a stronghold; a child, set apart for His Glory."
______________________________________________________________________________________________________
"As the mountains surround Jerusalem, so the Lord surrounds His people both now and forevermore." (Psalm 125:2 NIV)
What a beautiful promise to surround yourself with when life's mountains consume your gaze. When we walk through difficulty, His Presence is the difference between being filled with the "Wonder of His Mountains", and being filled with the "wonder whys" of our own mountains.   Hear His "Trust Me's," and heed them like your life depends on it…because it does.  Remember, it's only those who trust in the Lord who become like Mount Zion. Unshakable, both now and forevermore!

HEART TRAPPINGS:
What Mountains are you facing in your life?
Where have you fixed your gaze?  On His Presence…or your Mountains?
PRAYER:  Dearest Father,
I know that sometimes Life is filled with more hills and valleys than we ever thought we'd have to face.  Help us not to live in our own blind-spots, but to focus instead on the Wonders of Your unshakable Presence,Protection, and Permanence through every high and low.  YOU can always be trusted…
Amen