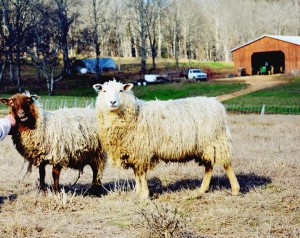 "Shearing Day on the Farm leaves a permanent
   mark of shear joy on little girl's heart!"
---
written by Debbie Allen
Most of us would agree, there is simply nothing like being a child.  It should be no surprise then, to discover that after we grow-up; we often just wish we were a child again.  Somewhere along the way, as adults, we lose sight of the simple joy that characterizes childhood. We lose touch with the wonder that God has tucked into the folds of our days.  We begin to wonder "why?" concerning our circumstances instead of being filled with the wonder of The One Who controls those circumstances.    It is in this breach between the wonder-filled  hearts and our wondering minds, that we begin  to push joy and Truth  through our own filter of circumstances and logic; ending up with only  a strained version of  true faith.  Let me show you what I mean.
A few months ago, Billie, the librarian at the middle school where I work; shared with me the little bits and pieces of her childhood; growing up on a small sheep and cattle ranch in the middle of windy, Wyoming.  She spoke fondly of the brazen, fun-loving Dad she loved so dearly; and the staunch, God-fearing, Mom who she adored.
She remembered watching her Dad and Uncle back a flatbed truck up next to their barn on Shearing Day.  Then, they hung a lengthy, burlap, fleece-bag down over the truck bed.  To me, a city girl, Shearing Day sounded like anything but fun. However, Billie's expression told me otherwise. Her eyes danced while she spilled the specifics to me.  She was like a child reliving every moment again!
Shearing Day took place on the farm, in Wyoming, in the heat of summer.  This day was also characterized by scorching winds dancing across sweat-drenched brows, while swift and sweaty palms worked shear magic to transform the wild and wooly into the scraped and scrawny.    Sheep bleating, clippers clipping, and fleece flying!   All of this sounds like more than enough exhilaration to rate "extremely-high" on a child's joy meter.  Billie's face reflected this as she proceeded to act out her part in this scene from her childhood.  While still sitting in her rolling desk chair across from me, Billie threw both arms out to the side, lifted her feet straight up, and began to re-enact the dance that little four-year-old Billie remembered dancing on Shearing Day; after being placed down inside of a fifteen foot tall, burlap, fleece-bag dangling from the barn loft high above her.
"I can't remember how I got down inside of that bag", Billie pondered, grinning "…I just remember being there; laughing and giggling for an entire day, while endless fleece rained down on top of my head!"
Now…like every other task performed on the farm, Billie's Dad did not just place his precious, Baby Girl down inside of that stuffy, burlap, fleece-bag without a much greater purpose in mind. She was given a very specific job to do for her Daddy.  She was his own, personal fleece-stomper!  He was to her, the fleece-maker.  He sheared and sheared…Billie stomped and stomped.  At the end of that day, pounds and pounds of sheared fleece became bags and bags full of compressed wool to take to market.  I'm sure each bag brought a great price, but, do you know what I consider to be the most valuable take-away from the farm at the end of Shearing Day?  The expression of joy that Billie still wears on her face nearly five decades later. Shear joy!  It comes from the heart of that little farm girl inside of her who, even now, looks back on all her stomping…and sees dancing.  She remembers her sweaty, pint-sized brow…and still calls it fun.   She ponders growing tired…yet, still draws strength from her Daddy's simple words of encouragement to her that day, "Just keep stomping, little Bill, keep stomping!"
"Just keep stomping, little Bill, keep stomping!"  These words continued to resonate in my own thoughts.   They were simple, yet wise.  The expression of joy Billie wears on her face today, might have been very different had she not heeded her father's words that day.
What if four-year-old Billie woke up on that hot, windy, Wyoming, Shearing Day on the farm and said, "No!" to the joy awaiting her in that day (As we adults too often do)?  She could've chosen to dwell purely on the facts surrounding her.  She was too little…too tired…too busy…and the job was too much for her littleness to comprehend.  But, she didn't!  Instead, in the way of a little child, she sought her father out and without questioning him, accepted her small part in his BIG world.  Grasping her Daddy's hand in total trust, she went willingly down into the burlap, fleece-bag which swallowed her up whole and then kept her from seeing him at all.  Little Billie could've felt trapped or even alone in this unfamiliar place.  Fear might have won.
But, looking up, instead of giving up, she cried out, "Daddy?"
"I'm here!" Daddy reminded her…and fear was done!
Quickly, she learned that just because the fleece-maker was invisible to her; didn't mean he wasn't still standing there beside her.  And when the clumps of fleece from her Daddy's hands tumbled down upon her head, she didn't wince or cry out, "Why?"  She simply remembered her littleness…in light of his nearness; and joyfully danced to the sounds of her Daddy's voice.
"Just keep stomping, Little Bill'…
Keep dancing for me!"
"And let joy teach your heart
to really see!"
 Most of us forfeit the chance to really see because we become paralyzed by, or choose to focus only, on the circumstances falling down around us.  If Little Billie had chosen to do the same, she would have been buried alive at the bottom of the fleece-bag on Shearing Day.  However, she didn't.  She chose wisely to heed her Daddy's words and responded with obedience.  She stomped and stomped, tromping the fleece falling on top of her head, beneath her feet.  In time, with both diligence and fortitude, she rose steadily to the top of that bag; climbing out into the arms of her Daddy's treasured, embrace.  Though hard work and difficult circumstances abounded in this day, joy overwhelmed it.  Joy enough to teach a child's heart that trust and obedience brings both treasure and reward at the end of any given day.  Shear joy, so deeply infused in a little girl's heart; it is still worn on the adult face of that little fleece-stomper today.
The story of the Fleece-maker and his Daughter speaks loudly to my heart about the kind of relationship each of us is meant to live out before our Heavenly Father.  Shearing Day emulates waking up each morning and saying, "yes" to Joy.  It is seeing past the obvious; I'm too tired…too busy…and the job is too much.  Seeking our Father out, without question, we are to accept our small part in His BIG world.  Grasping our Father's Hand in total trust, we are to go willingly, as He slips us down into the unforeseen circumstances surrounding us each day.  And yes…they swallow us up without reservation and keep us from seeing the Face of our Father at all!  Feeling alone down in these unfamiliar places; Fear fights to win!
But, we look up and cry, "Father?"
He answers, "I AM here,"
And Fear is done!
Quickly, we learn in such secluded places, that just because our Father is invisible to us, doesn't mean He isn't standing right there next to us.  And when the circumstances that fall from our Father's Hands come crashing down upon our heads; our Father's Love has taught us we don't wince and cry out, "Why?"
We remember instead, to ponder our little-ness in light of His Near-ness and joyfully dance to the sounds of our Heavenly Father's Voice…
"Just keep stomping, Little Child,
Keep dancing for Me;
Let Joy teach your heart
To really see!"
 "For in Your Presence is fullness of joy; at Your right hand are pleasures forevermore." (Psalm 16:11 NKJV)

HEART TRAPPINGS:  How many of your own childhood memories still flood your heart with deep-seated joy?  How willing are you to accept  your small part in your Heavenly Father's BIG world? How do you react to the circumstances falling down around you?  Will you choose to keep dancing…or will you succumb to being buried alive by your circumstances?  What in life is hindering you from seeing your own little-ness… in light of your Father's Near-ness?
                        PRAYER:  Father, I pray You help me learn to trust You more like a little child, concerning the circumstances falling down upon my         head.  Tune my ears to hear Your Voice and may I never doubt that just because I fail to see You…doesn't mean You are not standing right there next to me.